HIROPPA, OUCHI, KOUBA, and BEEROAD are all located in the Bofuta area, and each location is within a 2-minute walk. This area is a 5-minute drive from Hasami Arita IC and is located in a place surrounded by the Kawatana River and fields along the bypass. There are various popular tourist spots and commercial areas of Hasami Town such as pottery village Nakaoyama, ceramic park, Hasami town History and Culture Exchange Center and Nishinohara in the neighborhood.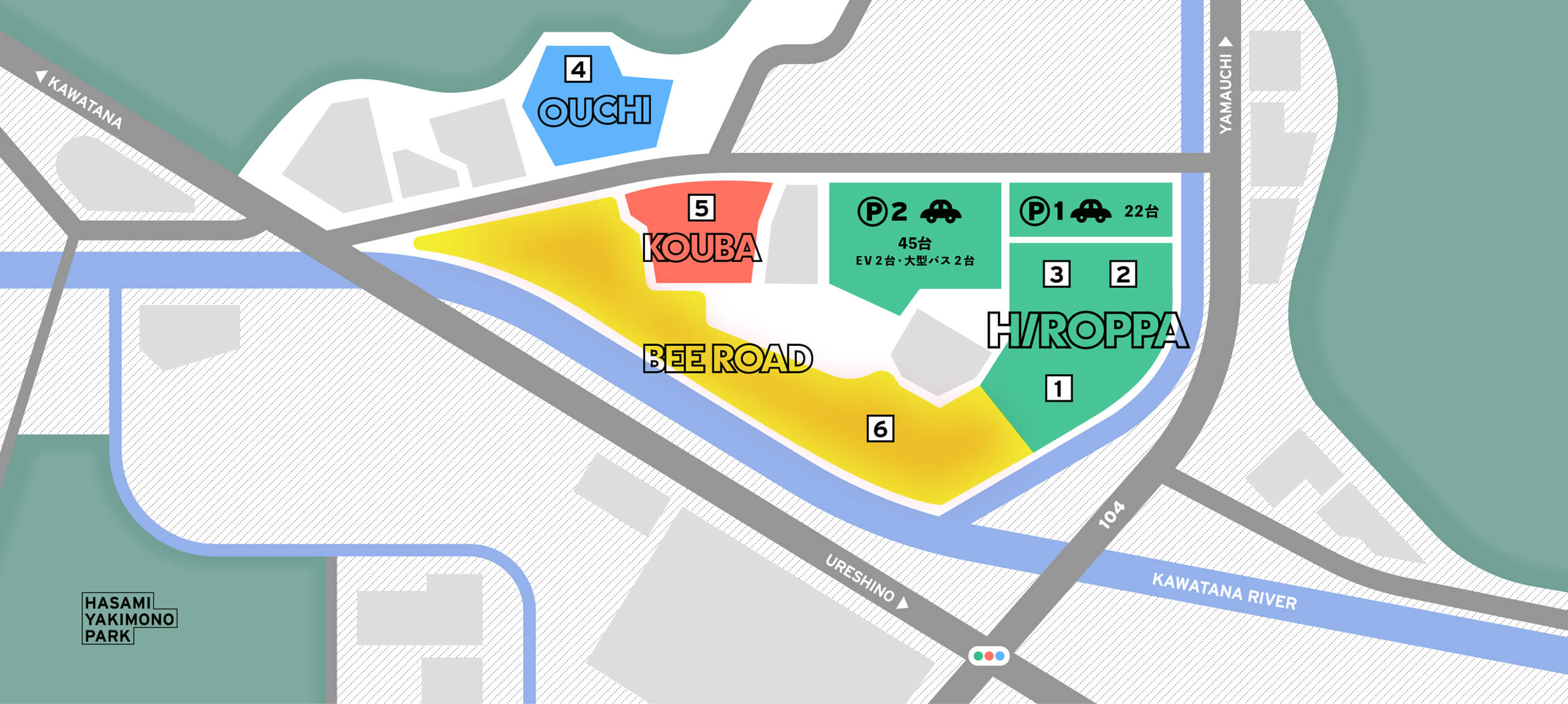 [ Park ]HIROPPA
Tha private park operated by Maruhiro Inc. that the terrain itself becomes a playground. It can be experienced mixture of nature and art. It is designed to be barrier-free so that visitors can go around the park in a wheelchair or with stroller.
[ Shop ]MARUHIRO STORE
The retail shop directly managed by Maruhiro Inc. that focuses on its original brands, such as HASAMI and BARBAR, so the full line-up of those products is displayed and available for sale. Limited edition items, art pieces, curated household goods, snacks, and toy are also for sale.
[ Coffee stand ]OPEN-END
The coffee stand with coffee, shakes, tea, and homemade sweets such as puddings and cakes. Both eat-in and take-out are available.
[ Multi-purpose space ]OUCHI
The multi-purpose space that innovatively and creatively renovated 86-year-old traditional Japanese house. Open only during the events.
[ Head office ]KOUBA
The head office of Maruhiro Inc. where all operations from planning to shipping are carried out. It can also be used as the event space occasionally. Open only during the events.
[ Flower garden ]BEE ROAD
The path along the Kawatana River that connects the 4,500 ㎡ site between HIROPPA and KOUBA. We are planning to plant sunflowers in summer and cosmos in autumn, and it will become a maze. Under construction as of summer 2023.
[ Food ]EN
The food & beverage business department of Maruhiro Inc. that provides lunch boxes, sandwiches, and more at HIROPPA. It also opens a snow cone shop with natural ice at OUCHI every year from the end of April to around September.