CAFE SPACE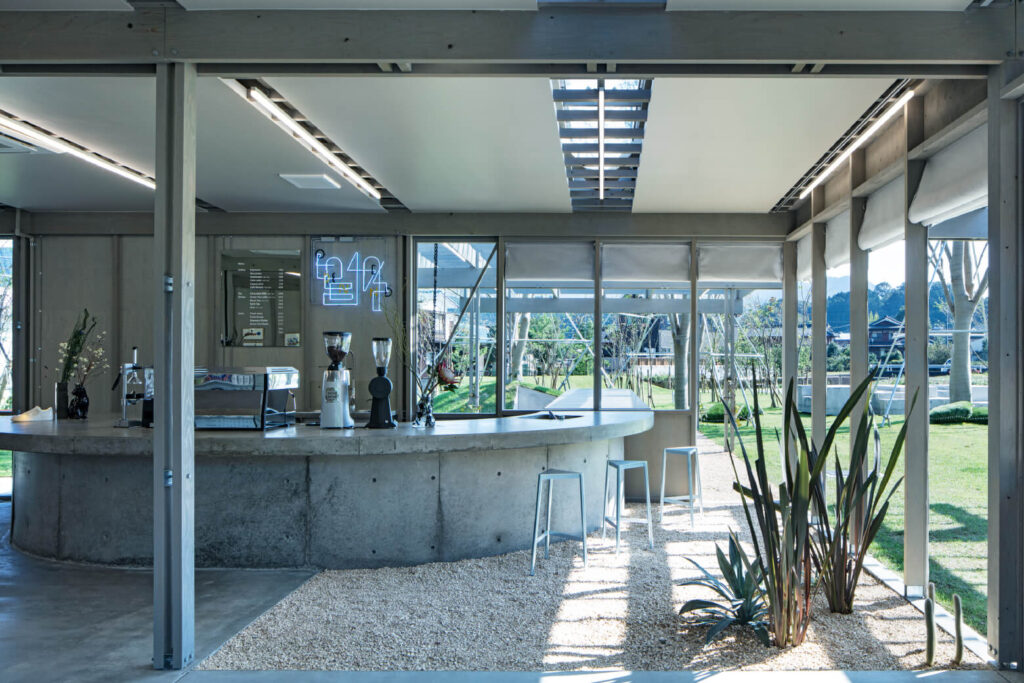 A cafe space where gives you an open feeling, characterized by an 8m curved mortar counter. It is located inside MARUHIRO STORE and there are 4 counter seats, 6 table seats, and also some benches in the building.
OPEN TERRACE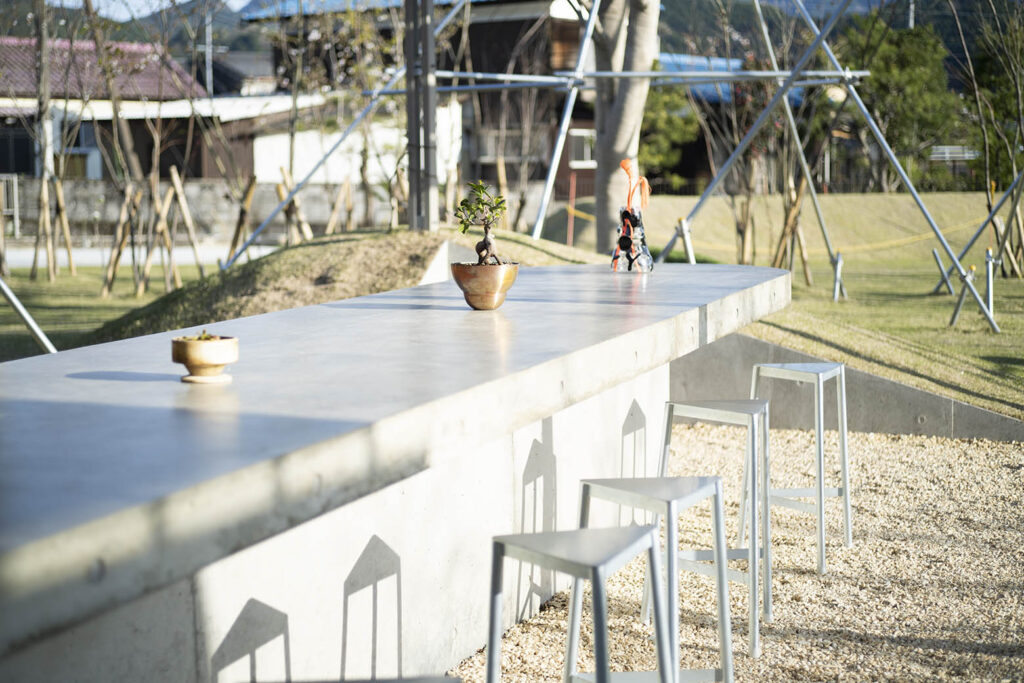 There are 10 terrace seats next to the coffee stand. On sunny days, the terrace seats will be comfortable with moderate sunlight and gentle breeze. You can see the pergola overhead at the terrace seats, and once the kiwi grows completely, it will be a green roof. The material of ceramic ware is used for the paving stone same as in the building. Besides the terrace seats, there are many places where you can take a break, such as ROBOT HILL, BEANPOLE SEAT, or TURFY CUSHION. So, it is also nice to take out drinks and foods, then find your favorite place to relax.
Coffee & Drink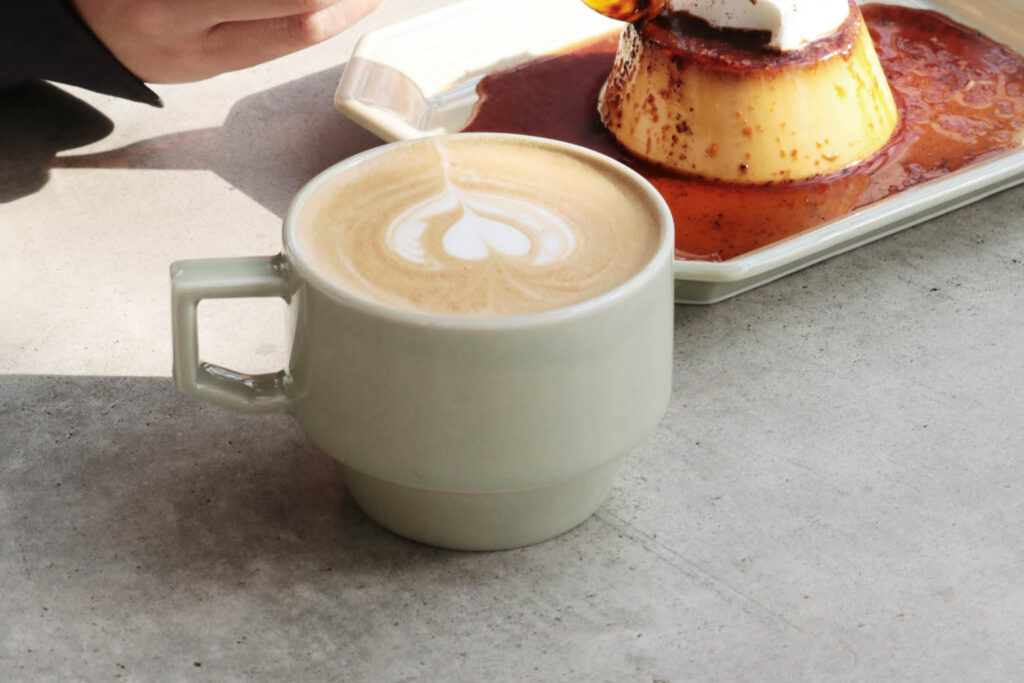 Menu
COFFEE
Drip Hot / Ice 600
Americano Hot / Ice 550
Cafe Latte Hot / Ice 600
Cappuccino 600
Cafe Mocha Hot / Ice 650
Espresso 450

TEA / OTHERS
Chocolate Milk Hot / Ice 650
Green Tea Latte Hot / Ice 650
Black Tea Hot / Ice 550
Herb Tea 550
Chai Hot / Ice 650
Hiroppa Tea 500

JUICE
Fresh Juice 650
Fruits Shake 700
Espresso Shake 700
Green Tea Shake 700

+oat 100 +cbd 300
There are many kinds of beverage in OPEN-END, such as the specialty coffee roasted by Manu Coffee based in Fukuoka, the blended tea Hiroppa-cha made with sunflower petals harvested at BEE ROAD, and the fresh juices and shakes made with plenty of seasonal fruits. You can change the bovine milk to oats milk for +¥100, or it is also available to add CDB oil for +¥300. We also offer a ¥20 discount for people who bring their own bottle.
SWEETS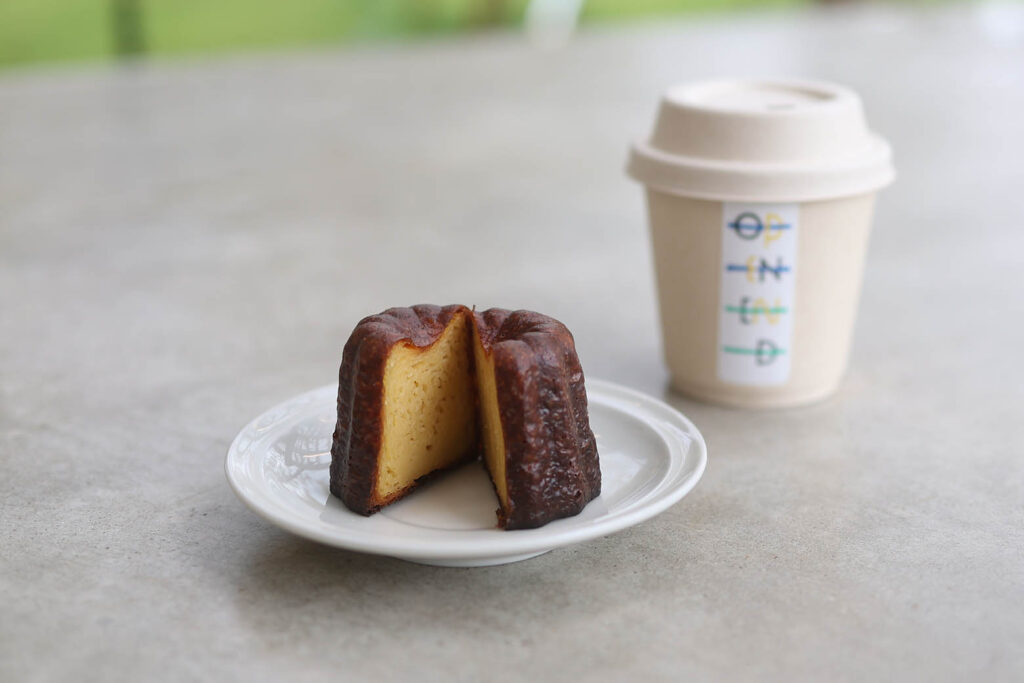 Menu
CARAMEL PUDDING
caramel pudding 500


CAKE
baked cheesecake 450
canelé 350


COOKIE
s'mores cookies 300
chocolate chip cookie 300


DONUT
sugar donut 350
chocolate donut 400

There are several kinds of seasonal sweets that go well with coffee, such as homemade baked sweets, cheesecakes, and canelés. S'mores cookies are made by mixing chocolate, nuts, and marshmallows with organic cocoa dough, baked cheesecakes have a slightly bittersweet caramel flavor, and our canelés are moist and chewy.
Why don't you grab some good coffee with our pâtissier's elaborate sweets?
ORIGINAL GOODS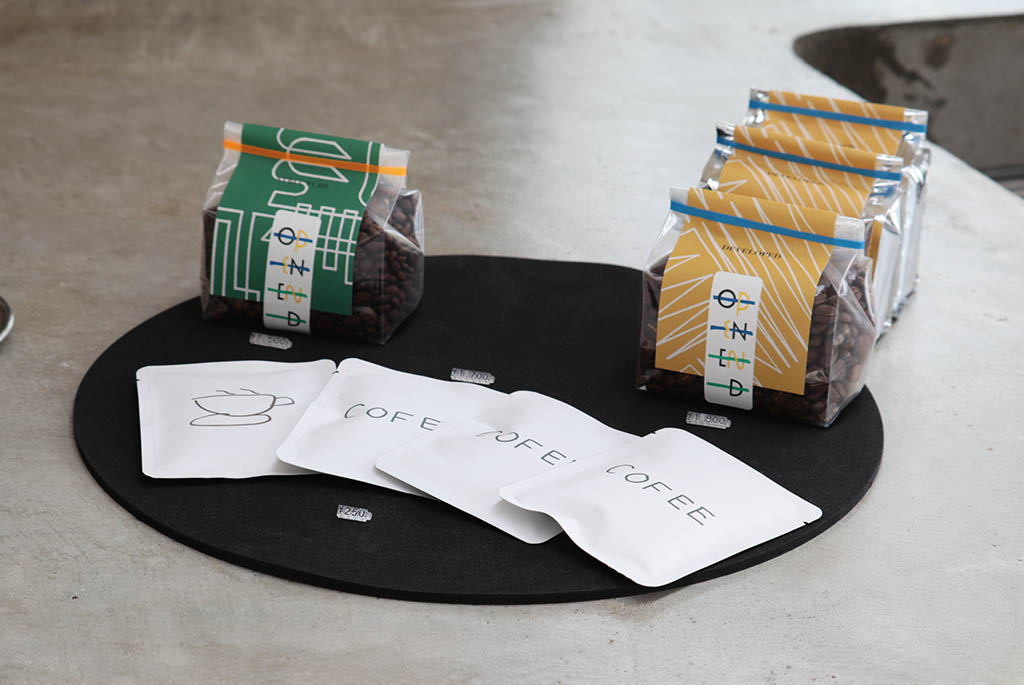 The original items of OPEN-END that collaborated with several artists are for sale, such as coffee beans, drip bag, graphic T-shirts, and pullovers.
INFORMATION
The information of OPEN-END can be viewed on its official website and Instagram, and you can also browse the diary and event page in Maruhiro official website. You can purchase the coffee beans and other goods from the official website of OPEN-END.